The Bin Tug Comes Equipped with Many Features to Help You with Your Specific Needs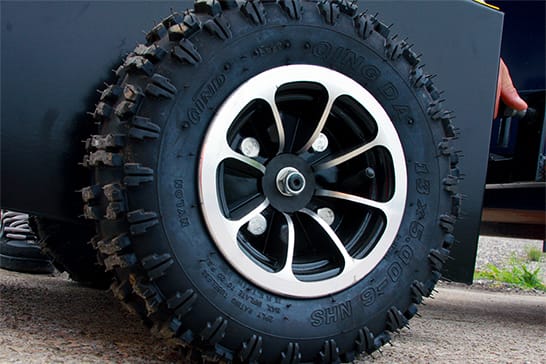 Pneumatic tires.
The unit is small, ideal for pulling garbage bins, compactors, and more. The easy to use control handle provides excellent manoeuvrability, while the pneumatic tires and freewheeling differential increase that manoeuvrability further. A safety belly stop button is installed on the back of the control handle for user safety.
Please contact us today at 416-741-3999, toll free at 1-844-669-3999, or email us at [email protected] for your free quotation.
For Added Insurance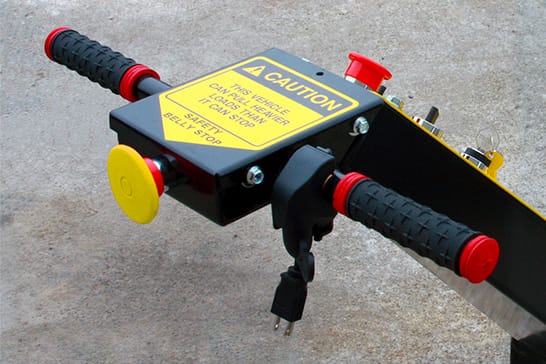 Control handle with safety belly stop button.
An electro-automatic braking system is built-in, which can be released using the red switch located on the front of the electric transaxle. The Bin Tug also has a fully programmable controller that can be programmed to suit different user's needs. More additional options are listed below.
Fully Programmable Controller
The controller inside the battery powered Bin Tug is fully customizable. From speed to torque to throttle sensitivity, an authorized technician can adjust the settings of your unit to better meet your specific needs.
Load Limit
The Bin Tug is designed to push or pull a maximum capacity of 2,000 kgs (2,500 kgs for the Bin Tug XHD). It is recommended that you do not exceed these limitations.
Additional Options
180˚ container hitch with adjustable bin hook-up bolts
Salt spreading or cart attachments
Night lighting system
Casters
Foam filled tires
Backup beeper