Designed for Reliable, Maintenance Free Power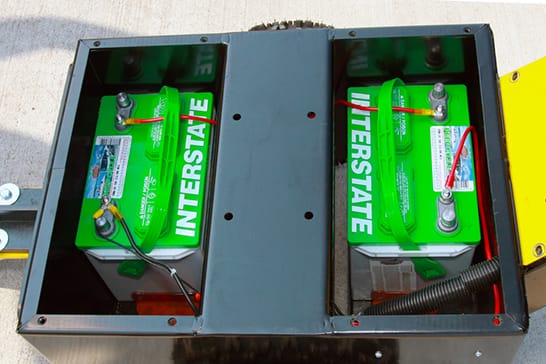 Your Bin Tug is equipped with two 60 Amp/hour, wet-type batteries (HD Deep Cycle).
The battery powered Bin Tug comes with valve-regulated, gelled-electrolyte batteries designed for reliable, maintenance-free power, and for renewable energy applications where frequent deep cycles are required and minimum maintenance is desired.
12 volts nominal, 60 Amp/hour
Weighs 24 pounds
Element, post = Threaded stud of "flag" terminal, forged bushing
Charge voltage = Cycle 2.30 to 2.35; Float 2.25 to 2.30
Rated non-spillable by ICAO, IATA, and DOT
Please contact us today at 416-741-3999, toll free at 1-844-669-3999, or email us at [email protected] for your free quotation.
Providing Power & Control
The electrical system in the unit provides power and control to the drive system. Items include:
2 Batteries
Control Switches
Electric Transaxle
Indicator Light
Battery Charger
The fully electric Bin Tug operates on 24-volt DC power provided by two 12-volt batteries. Built in is an AC powered battery charger that can be plugged into any AC outlet with the provided AC power cord. The system cannot be operated while being charged. It must be switched into the off position for charging.